Latest News
Published on Friday 3rd of September 2021
After the success of our inaugural virtual celebration last year, we welcomed the opportunity to host another event to celebrate the achievements of the latest cohort of graduating students from the University of Roehampton Centres and Degree Apprenticeships.
More than 128 students attended the virtual event to receive congratulations from a selection of our academics. The impressive online gathering was executed to ensure all hard work and commitments to their studies was recognised, especially during the challenges faced throughout the pandemic. QA Higher Education's Head of Conversion, Martha Walsh, hosted the celebration with guest commendations from many familiar faces as well as academics including:
Head of Strategic Partnerships, Kate Dobson
Provost and Executive Dean, Tim Harris
Director of Degree Apprenticeships, Donna Corr
Dean of Faculty, Paul Bocij
Paul Bocij addressed the students and learners with some wise words of encouragement:
"All of you who have studied a degree in conjunction with the University of Roehampton, you've made it. So, now it's time for you to reflect a little, but it's also time for you to enjoy the rewards that you've earned and see you for yourself that it was all worth the effort."

"Your degree is the key that will allow you and help you to unlock a career."
Students were welcomed to join the growing Alumni community, and encouraged to network and join classmates past and present in upcoming events. The Alumni group is a value resource for students to stay in touch, network and expand their contacts.
The University of Roehampton also hosted an in-person graduation ceremony in early September for all graduating students, allowing everyone to come together to celebrate their success and achievement in what has been a challenging time with the restrictions of the pandemic.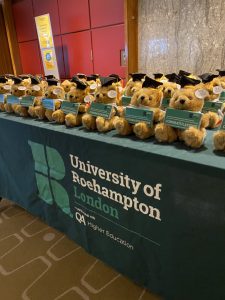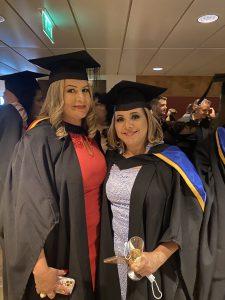 QA Higher Education would like to congratulate all of our University of Roehampton Centres students and Degree Apprenticeships learners on their remarkable achievements, and hope they continue to succeed in all endeavours.
Congratulations.
Back to news
RELATED NEWS
Latest News
Con-gradulations!
300 students from Ulster University walked across the stage, marking the end of a prominent chapter and the beginning of a new one.