Latest News
Published on Friday 2nd of July 2021
To support our diverse range of customers, we are excited to announce, we now provide enhanced accessibility support online to enable access to information and services barrier-free.
At QA Higher Education, we pride ourselves on being a company that goes the extra mile to maintain communication and quality of service. With the introduction of Recite Me assistive technology on our website, users can customise their web page in a way that works best for them.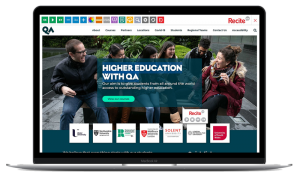 Reducing barriers
Over 7 million people or 18% of the working-age population in Britain are disabled as defined as by the Equality Act 2010 (Source: Employers' Forum on Disability). We are working to ensure that people who have a disability are not prevented from accessing or understanding our web content.
Those who are most susceptible to access barriers are those who struggle with:
Decreased vision
Learning difficulties
Literacy
Attention disorders
Physical disabilities
The World Health Organisation (WHO) estimates that only 1 in 10 people have access to the assistive technology they need, so it was important for us to provide easy access to our website information and services.
Assistive technology provides solutions and support for all of these, making the online world more inclusive and an equal playing field for everyone.
We hope that users will find the toolbar helpful and are open to receiving feedback and suggestions for what further adjustments we might make, to ensure that everyone has equal access to our web content.
Quick guide to using the Recite Me toolbar
To access the assistive toolbar on our website, click the "Accessibility" button at the top right of our website. You can access the User Guide here.
Screen Reader
The screen reader helps people who are blind or visually-impaired to interact, read and understand our digital content.
Main features:
All content read aloud in a natural voice.
Speed controls and word-by-word highlighting for total customisation.
Allows the user to download audio content to an MP3 file and listen offline.
Page Styling
With the Recite Me toolbar, users are now able to customise the website to suit their individual needs. Users are able to customise our website's colour scheme as well as the text, font style, size, colour, and spacing. This helps support users who have visual impairments, learning difficulties, autism and more.
Main features:
Text size and colour
Website background colour
Text font type, including Open-Dyslexic.
Text only mode to eliminating all styling, much like a Word document.
Reading
Reading content online can be a challenge for some people. To simplify and support Recite Me provide five main tools.
Ruler – this helps to read content line by line
Reading mask – to eliminate distractions
Magnifier – to zoom in to sections of text making reading easier
Margins – to reposition text in text-only
Fully integrated dictionary and thesaurus on site
For more information on Recite Me, check out their website here.
Back to news
RELATED NEWS
Latest News
Empowering Women to follow their dreams
At QA Higher Education we believe in powering potential. Every student should be able to access good quality education, of their choosing, irrespective of their cultural or socio-economic background.