Latest News
Published on Friday 24th of September 2021
QA Higher Education and Northumbria University recognised for student-centric approach at London Campus.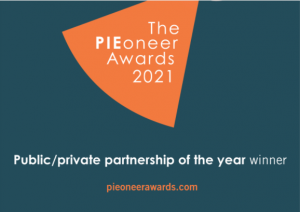 QA, a world-leading provider of digital and tech skills, and Northumbria University were named Public/Private Partnership of 2021 at this year's PIEoneer Awards ceremony. The win recognises the differentiated experience of QA's international students at Northumbria University's London Campus resulting in consistently high grades for learners and great levels of student satisfaction.
The QA and Northumbria University London campus is home to 2,500 students from 90 countries studying a wide range of programmes including digital business, emerging technology, computing, cyber and international project management. Partnering since 2014, QA and Northumbria University are committed to giving students the very best experience at every stage of their student journey from recruitment through to onboarding, on-programme and beyond graduation. In 2019/20 over 80% of the international students studying here gained commendation or distinction grades, module satisfaction was consistently in the upper quartile and over 70% of the academic and support team were nominated by its students for the Student Union's Student Led Teaching Awards.
The Public/Private Partnership award recognises the continued hard work and commitment to an outstanding learner experience from both QA and Northumbria University, said Nick Miller, Chief Marketing and International Officer, QA Higher Education. Through our You Said, We Did model, we take an agile approach to gathering feedback and evolving our services in line with student requirements, keeping learners satisfied and successful. We are delighted that our student-centric approach to Higher Education has been recognised with a prestigious PIEoneer award.
The excellent international student performance and satisfaction has been achieved through joint investment in all areas of the student journey. This includes a substantial investment in campus refurbishment increasing designated areas for social learning, private study, specialist technical facilities and tutorial space. Embedded careers and internship support enable students to complete a London-based internship during their study while a learning to learn, culturalisation and academic/language skill programme helps build international students confidence and subsequent academic success. One-to-one and small group teaching, weekly tutorial and programme leader drop-ins, and smart timetabling all enable learners to plan their London commute cost effectively. These continued enhancements are embedded with agility ensuring the practice is meeting the current needs of the diverse learner population.
Dr Guy Brown, Director of Northumbria University London Campus, said: "The commitment of both Northumbria University and QA Higher Education to delivering a distinctive student journey and range of innovative, research-rich and flexible undergraduate and postgraduate programmes, which draw on the strengths of both partners, is what has enabled Northumbria London Campus to gain this prestigious award. Our close working relationship, based on our shared values, has enabled the partnership to enter into numerous new areas including Northumbria Pathway College and our National Degree Apprenticeship offer.  We look forward to continued collaboration and success."
The approach has seen the relationship grow from a single campus with 144 students in 2014, to a multi-facetted partnership with a UK-wide portfolio including Pathway, Undergraduate, Postgraduate, Executive Education and Degree Apprenticeship.
Back to news