Latest News
Published on Monday 29th of November 2021
Formed in 2021, the University of South Wales Pathway College is the most recent addition to the QA Higher Education pathway portfolio and is a partnership between the University of South Wales (USW) and QA Higher Education (QAHE).
In November, the teams at QAHE and USW were delighted to welcome some of our representatives to the Treforest and Cardiff campuses at USW for a day-long event. The attendees had the opportunity to experience first-hand the ambition, intent and forward-thinking ethos of the partnership
The day started in Pontypridd at the Treforest Campus and proved an excellent opportunity to see the University's campuses and facilities in-person, as well as enabling many attending to meet face-to-face once again. It was a pleasure to network, socialise and share ideas after not having been able to do so for an extended period due to the pandemic and travel restrictions.
A warm welcome
Opening the conference was Nick Miller, Chief Marketing and International Officer at QAHE, who welcomed everyone to the day and introduced QA, our ethos and the background of the partnership between QAHE and USW.
Joy Musa, Director of International Recruitment and Guy Robson, Director of Pathway Recruitment took us through the growth in international recruitment, future opportunities and our exciting plans for the future. They also offered guests an overview of the full QAHE pathway provision and university partnerships.
Next it was over to Dr Lisa Davies, Head of International and Partnership Development at USW, who gave a very warm welcome to USW and introduced the university, its history and growth. Davies explained the extensive support available for international students throughout their learning journey with the university and USW promises more than just a qualification but its mission it to help students achieve their potential professionally and personally. Davies also provided valuable insight into the region and all the opportunities for students.
Portfolio of excellence
The following sessions showcased the USW faculties that encompass over 60 different undergraduate programmes that the Pathway College students can progress on to, delivered by:
Iain Shewring, Academic Subject Manager Informatics and Cyber Security at USW, explored the School's undergraduate degree portfolio and how these meet the extensive growth in industry needs within this sector.
Richard Hurford, Academic Manager for Business Management at USW shared an insight in to the undergraduate Business programmes and their strong industry links. He outlined the available professional qualifications and accreditations many programmes include.
Louise Pennell, Head of Engineering and Shane Galvin, Deputy Head of School at USW led a fascinating tour of the Engineering facilities at the campus including the aircraft hangar, complete with fuselage.
Dr Dawn Story, Head of School of Applied Sciences at USW presented the university's varied portfolio of science undergraduate programmes, their accreditations and insights in to the modern, purpose-built environments where students apply their learning throughout their studies.
Exploring the best of both worlds
The Pathway College located at Pontypridd at the Treforest Campus is only a short train journey from the capital, Cardiff.
After a short journey to the Cardiff campus, Huw Swayne, Head of Learning, Teaching and Student Experience introduced the Creative Industries faculty, the portfolio of programmes available, showcasing the achievements of many USW alumni too. To close the day, we were joined by USW Student Ambassadors for tours of the Creative Industries facilities.
When asked about the day, Guy Robson, Director of Pathway Recruitment at QAHE said "It was the first time since Covid that we were been able to arrange a conference and it was particularly exciting to be able to invite so many of our representatives to see our newest university partner. The day highlighted our course offering at USW and gave attendees a taste of what the University has to offer and a taste of its delicious Welsh cakes!"
We were delighted to see so many of our representatives, and those of USW, be able to attend the event and are already planning our next event for 2022 where we hope more will be able to join us, subject to travel restrictions.
Just for fun
For those who have attended our events before, you'll know we love an end-of-day quiz, as we were unable to fit it in this time, here are some of the questions we'd prepared just in case you'd like to test yourself!
You can find the answers at the bottom of the page
Which mythical creature is on the Welsh flag?
Which three universities does QAHE work with to offer pathway programmes?
Which USW Campus is where pathway students are taught?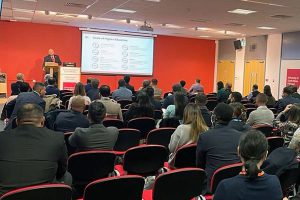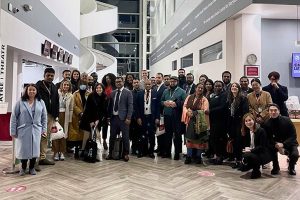 Answers
1. Dragon, 2. Northumbria University, Solent University, University of South Wales. 3. Treforest.
Back to news