Latest News
Published on Friday 24th of February 2023
QA Higher Education's 3rd annual Pathway Conference!
This year marked the third edition of another successful Pathway Conference and we are stoked!
As tradition goes, we hand-picked some of our top performing pathway representatives from across the globe. Invited our university partners. Selected members of our International Recruitment Team and Pathway Teams. Then headed out for 3 days in Dubai to talk all things pathway.
So, what went down you ask?
At a glimpse
This year's theme was "how to bullet proof your recruitment". We looked at market trends and insights. Discussed the changes brought on by the receding impact of Covid and the potential effects impending visa regulations will have on recruitment.
Some key trends mentioned were:
UK study visa issuance is expanding exponentially. The first three quarters of 2022 reported over 400K visas were issued. These numbers are even higher than pre pandemic levels which were below 275K visas, at best
Diversifying offerings and expanding operating countries, to deal with the rising demand was a recurring theme amongst agents
Visa Issuance to India overtook China in the first nine months of 2022- indicative of broader geographical shifts taking place
UK is currently leading competition in emerging markets like Nigeria- with 45K visas being issued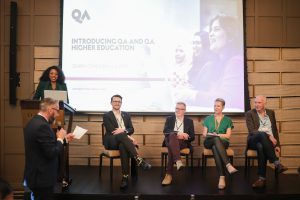 A detailed flow of events
With the teams arriving throughout the day on the 10th, we kicked the conference off with an evening of informal networking, giving everyone a chance to meet the teams in a relaxed environment.
The conference formally started on Saturday, with an introduction to QA Group and QA Higher Education, delivered by Simon Nelson, Chief Executive Officer. This was followed by Joy Musa, International Recruitment Director, delving into the current student numbers, trends and market insights within higher education.
Next up, we introduced Rob Carthy, Director of International Development at Northumbria University, who, presented everything Northumbria. From the university's recent cyber security accreditation, to being named university of the year and why students continue to vote for Newcastle as one of the top student cities in the UK.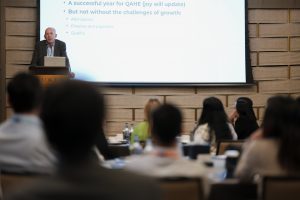 Our very own Guy Robson, Director of Pathway Recruitment, and the event organiser, followed next, with a deep dive into our new pathway provisions including new courses and revised entry requirements, all designed with the student and their learning experience at the heart.
The event was then graced by Lesley Smith, Head of Pathway Centre, Paula Henderson, Deputy Head of Pathway Centre who threw light on our new agreement with St Georges Medical University, Progression, and student experience.
Attendees also benefited from a panel session and talks delivered by our agent compliance and finance team. Closing the event with a cruise for a final taste of Dubai!
We were delighted to be able to spend such quality time with our partners and look forward to hosting you all again next year.
Back to news